Ceramic Tile in Cary, NC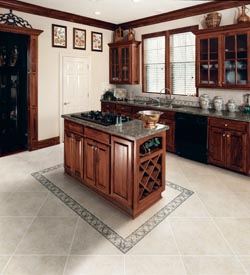 Are you looking for a fast and affordable way to improve the interior atmosphere of your home? With a tile floor made of ceramic, you add a new, durable surface to your home that perfectly matches your sense of style.
Our flooring store is proud to offer a diverse range of ceramic tile options. From sleek and modern to rich and classic, we offer a wide selection of ceramic tile flooring that is sure to suit your needs in looks, performance, and price. With designs from high-quality brands such as Design Distinctions™ and Floorcraft™, you can choose from numerous options in our collections of porcelain and ceramic floor tiles.


Ceramic Tile Flooring Options
When you work with our flooring specialists, you enjoy complete confidence in the type of flooring you are investing in. You want to make sure that you stay within your budget and delight in your new floors for many years. At our flooring store, we understand that no homeowner wants to feel limited when making a lasting choice like tile flooring. With an extensive selection of tiles, including materials like ceramic and porcelain, you can count on us to make sure that your every need is satisfied.
By backing our products with wear, fade and stain warranties that can last up to 25 years, you can't go wrong with our flooring store. We offer you a number of different options when you are settling on the style of tile that would best suit your home. You get to customize all of the following features to ensure you are completely satisfied with your choice of tile:
Tile Size
Tile Shape
Tile Color
Tile Texture


Stylish & Durable Ceramic Floor Tiles
With the impressive buying power we enjoy by being part of a national retail chain, you are sure to get your ceramic floor tiles for a better price than you will find anywhere else. With an extensive network of locally owned flooring stores, we offer the lowest prices on some of the most reputable brands of tile flooring.
If you are in the market for new tile floors, stop by your reputable flooring store today. Speak with one of our design associates to learn about the many benefits of owning a tile floor made of ceramic. Those who already know exactly what kind of ceramic tile they desire can be guided instantly to the product they seek. Those who are not quite sure what style of tiling they want can receive advice from our associates. We have experience matching tile flooring to many kinds of interiors, so we can help you select a type of tiling that will complement any room or area of your home.
If you are planning a remodeling project, bring your plans to us so we can better advise you on the flooring materials we would recommend. With our assistance, you can quickly find spectacular tile flooring solutions for any room in your home at an unbeatable price. Your remodeling project will look and feel more complete when you get your flooring from our company.


Advantages of Adding a Tile Floor Made of Ceramic
Why is ceramic tile used so frequently as a flooring material? There are many reasons to choose ceramic tile flooring for several rooms in your home. It is an adaptable flooring option that can be used in traditional areas like bathrooms and kitchens, as well as other areas like dining rooms, foyers, and hallways. You can even create a personalized hearth in front of your fireplace using ceramic tiles that have a rustic yet elegant appeal.
Durability is another reason to choose a tile floor made of ceramic. The manufacturing process for creating ceramic ensures that the material is strong and dense. This allows it to withstand heavy pressure on a frequent basis, making it perfect for flooring areas that receive a lot of use. The density also prevents water from seeping into the pores of the ceramic material. That is why so many people choose to have ceramic tile put in their bathrooms and kitchens. Even if there is a spill in the kitchen or the bathroom floor is soaked after giving the kids a bath, you do not have to worry about the liquid damaging the floors.
Stylistic versatility is another reason to choose ceramic floor tiles. The appearance of ceramic makes it a great fit for a wide range of interior styles. Whether you plan to have a chic, modern interior or something more traditional, you can be sure that your new tile will fit in perfectly. Our flooring store gives you full control over the size, color, and texture of your new tiling. This allows you to create your own unique tile product that gives any room a unique aesthetic appeal. We give you the opportunity to put a personal stamp on the style of flooring in your home.


Convenient Tile Flooring Installation
Our commitment to helping you doesn't end after you've selected your tile. We offer professional tile flooring installation as a part of our comprehensive flooring services. With our help, you won't have to worry at all about your flooring project; we've got you covered from beginning to end.

Are you ready to replace your flooring? Contact us to learn more about the ceramic, porcelain, and other tiling options we offer. Our services are available for clients in Cary, Holly Springs, Apex, New Hill, and Willow Spring, North Carolina, as well as the surrounding areas.