Hardwood Flooring in Cary, NC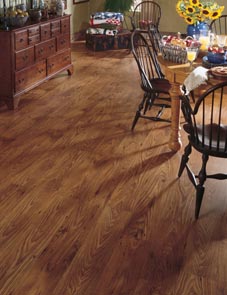 Enhance the value of your home with hardwood flooring in Cary, North Carolina. When you visit the Brentwood Carpets Flooring America showroom, our friendly design consultants will take the time to listen to your needs and find the right type of floors for your lifestyle and budget.
When you need a durable and attractive type of flooring that won't cost you a fortune, our innovative new engineered hardwood is the answer. If you are interested in a seamless surface crafted from natural woods, our solid hardwood flooring is the perfect choice. This versatile type of floor covering has the potential to accentuate any type of interior design theme you have in mind.
Our hardwood flooring is available in a wide variety of stains, finishes, and textures to suit any type of design plan. Many of our flooring options can be refinished and re-stained if you redecorate in the future as well. In addition, our hardwood floors are easy to clean and maintain.
Add Value and Character with Engineered Hardwood
Invest in flooring that affordably upgrades the look and value of your home. Your interior areas will dazzle with a stylish and durable engineered hardwood floor. Through an innovative new manufacturing process, natural materials are combined with a real-wood veneer to produce flooring planks that resemble traditional hardwood in every way.
These floors enable you to expand your design horizon when you consider the savings. With more to spend, you can get the sophisticated look you have always wanted. Find the right finish and texture for your design plan, and experience the difference that comes from our engineered hardwood flooring.
The Natural Appeal of Solid Hardwood
Transform your aging home into a showplace you can be proud of with our selection of solid hardwood flooring. This natural surface in your home or office is cut from solid pieces of the species of your choice. With distinctive grain patterns and no seams for dirt and other materials to hide in, this flooring choice is a cut above the rest. We offer numerous species from which to choose, including all of the following:
Oak
Walnut
Pine
Birch
Maple
Hickory
Acacia
Protect your home from moisture damage and wear with our varieties of solid hardwood flooring. With our solid hardwood surfaces, you get a consistent appearance that greatly enhances any room you install it in. Your family will enjoy the ease of maintenance as well. Solid hardwoods are also straightforward when it comes to installation. They are strong, durable, and an outstanding long-term investment in any property—home or business. In addition, this flooring will improve the acoustics of your building. Solid wood flooring is also easy to resurface and finish should it become damaged.
Another important benefit of these floors is that they help to provide healthy indoor air. They do not contain fibers, grout lines, or patterning that traps dust, pollen, animal dander, and allergens. If members of your household suffer from allergies, solid hardwood floors are a choice that contributes to healthier indoor air quality.
The Rustic Appeal of Handscraped Hardwood
For a vintage look of charm and warmth, our selection of handscraped hardwood is the perfect alternative to traditional wood surfaces. The chatting marks featured on this variety of flooring makes it perfect for your new cozy bungalow or the living room of any modern home.
Our focus is on your complete satisfaction, and these floors are just one of the many types of flooring we offer our loyal customers. With our commitment to quality, if you are not completely satisfied with the new flooring in your home, we will replace it with a floor of equal value.
Hardwood Flooring Installation That Makes a Difference
Hardwood floors invite warmth and elegance with a natural feel into any room of your house, including the basement. Nothing compares to the ease of cleaning and the physical beauty of hardwood. In addition to our all-star team of sales professionals, we also offer hardwood flooring installation from experienced and trained professional installers. Our flooring installation technicians can deliver and install any selection of flooring to complement any room in your home.
Protect the investment you are making in the value of your home by partnering with our hardwood flooring installation team. With competitive pricing and the best technicians in the business, we have made it convenient and easy to get the best fit for your flooring purchase. At every step of your design journey, we provide you with the support you need to make your home improvement process a success. With our skilled and experienced installation team, you avoid the issues with expansion and moisture damage that has the potential to cost you big down the road.
We are focused on delivering a positive experience for each of our customers. We start with design assistance that helps you find the right type of hardwood floors for your family and lifestyle. After getting the right match, we finish the job by providing you with the best fit possible for your distinctive living space. Enjoy your stunning new hardwood floors for many years to come. Our detailed and meticulous products and services are sure to serve you and your family far into the future.

Contact us for a free estimate on the attractive and affordable hardwood flooring you have always dreamed of. We proudly serve customers in Cary, Holly Springs, Apex, New Hills, and Willow Spring, North Carolina, and surrounding communities.