The Upscale Appeal of Luxury Vinyl Flooring in Cary, NC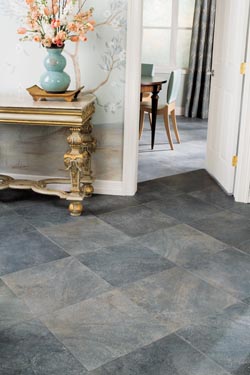 Add the luxurious look of our vinyl flooring to your home with a little help from Brentwood Carpets, Inc. Our flooring showroom is filled with samples of luxury vinyl flooring in Cary, NC. Vinyl is popular because it mimics high-end flooring types such as ceramic tile or hardwood plank, but comes with a smaller price tag and more versatility.
To learn about the advantages of this flooring option, ask the sales and design professionals in our showroom. These professionals have the training and experience to answer your questions about brands and performance, as well as assist you in selecting luxury vinyl tile or luxury vinyl plank that complements your home décor.

The Virtues of Luxury Vinyl
Modern manufacturing gets the nod for turning out vinyl in styles that resemble your favorite ceramic or porcelain tile. The lovely colors and delicate patterns in tile show up clearly in our luxury vinyl product because of the advanced embossing techniques. When it comes to wood, the grain and whorls are readily apparent in our luxury vinyl plank. The details are all here, including species appearance, finish, and texture.
Whether luxury vinyl in tile or plank, these surfaces offer homeowners so much more than mere beauty. In fact, luxury vinyl in all of its styles provides superior performance. Did you know that luxury vinyl:
Waterproof Flooring Solution -- Because it's manufactured flooring, water doesn't soak into vinyl. Instead, it waits patiently on the surface until you have time to clean it up.
Provides Installation Versatility -- As luxury vinyl resists water, it's ideal for rooms in your home that have running water or high humidity. This includes the kitchen, bathroom, and basement. Actually, we have found that vinyl works well in every room of your home.
Offers Sturdy Durability -- This tough flooring option stands up to heavy foot traffic, resisting scuffs and scrapes. Because it's difficult to damage, you can expect your luxury vinyl to last for many happy years.
There's another type of vinyl we want to tell you about -- resilient vinyl. This flooring classic comes in sheets of 6' or 12'. On the underside of these sheets is a backing of either felt or fiberglass. Both are long-lasting, and both offer a cushiony feeling underfoot.
Whichever type of vinyl you choose, be sure to ask us about professional installation. We can arrange for a team of technicians to come to your home to install vinyl to prevent damage and extend its lifespan.


Contact us today to get advice on choosing our luxury vinyl flooring for your home. We proudly serve customers in Cary, Holly Springs, Apex, New Hill, and Willow Spring, North Carolina, as well as the surrounding areas.