Tile Flooring in Cary, NC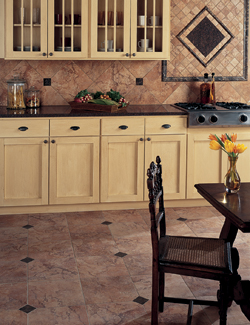 Set the standard in your neighborhood with tile flooring in Cary. Experience the versatile, convenient, and cost-effective nature of this flooring choice. The strength of tile means you avoid costly repairs or unnecessary replacement. Cleaning is simple and maintenance is a breeze. Get creative with tile and enhance the value of your home.
Ceramic Tile That Stands the Test of Time
Modernize your home with this durable flooring option. Areas that experience heavy traffic, like the kitchen, or are exposed to moisture, like the bathroom, can vastly benefit from ceramic tile. With ceramic, you save time on maintenance. There is no need to expose your children, pets, or yourself to harsh chemicals or cleaning agents. Simply use a mop with warm water and your floors will look pristine.


Versatile Designs from Porcelain Tile
Integrate porcelain tile into any central design theme of your home or office. This flooring is the top choice for creative design specialists due to the freedom it provides. Porcelain works perfectly in both formal and casual settings throughout your home, and it can be perfectly matched to complement decorative accents and trim pieces. Creating a consistent theme throughout your home has never been easier with the versatility provided by this advanced approach to flooring.


Slate Tile Is a Natural Alternative
Break the design mold and work with natural slate tile that allows you to go beyond just covering the floors in your home. This traditional product gives a natural appearance that opens up your design options. Create a dazzling array of designs for your walls, including kitchen backsplashes, while working with a product that features enhanced durability and value. Slate gives you a lasting product that can stand the test of time, which saves you money in the long run.


Depend on Our Tile Flooring Installation
Eliminate the guesswork involved with your next home improvement project by taking advantage of our professional tile flooring installation process. With our professionals on the job, there is no need to feel limited by the basic grid of square tiles. You can expand your imagination with an innovative and creative pattern. Create an atmosphere of timeless style with the traditional checkerboard pattern, or add a creative touch with the popular brick floor tile pattern. Another popular style choice is the subway style look. Even a simple approach like creating a tile border can add a distinctive feel to any room. A world of pattern options is available to you.

Contact us today for a free design and installation consultation when you're in the market for tile flooring. We proudly serve customers in Cary, NC, and surrounding areas.