Tile Flooring in Cary, NC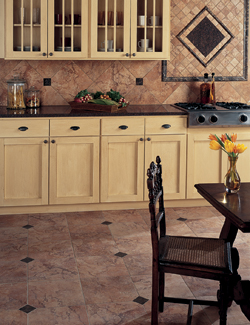 Enhance the value and appeal of your home or business with our convenient and cost-effective tile flooring. You can't afford to spend countless hours cleaning the tile in your home, and with our selection of new flooring options you won't have to. Our flooring is easy to clean and it maintains its appeal for years to come. You save time and money when you purchase this creative and convenient style of flooring from our design team.


Ceramic Tile That Stands the Test of Time
When homeowners need a flooring option that can maintain its appearance in the face of heavy traffic and moisture, they choose the ceramic tile from our expansive showroom. Save your children and pets from the potential dangers of harsh chemicals and cleaning agents with this option that only requires warm water for clean up. Instantly modernize the look and feel of your home with this traditional flooring option that saves you time and money in the process.


Versatile Designs from Porcelain Tile
Our porcelain tile provides you with options that easily integrate into any central design theme you have found for your home or office. This flooring is the choice of creative design specialists due to the freedom it provides. Porcelain works perfectly in both formal and casual settings throughout your home, and this type of flooring features perfectly matched decorative accents and trim pieces. Creating a consistent theme throughout your home has never been easier with the versatility provided by this advanced approach to flooring.


Slate Tile Is a Natural Alternative
Break the design mold and work with natural slate tile that allows you to go beyond just covering the floors in your home. This traditional product is more natural than other types of tile, and it opens up your design options as well. Create a dazzling array of designs for your walls, including kitchen back splashes, while working with a product that features enhanced durability and value. This slate gives you a lasting product that can stand the test of time, and this saves you money in the long run.


Depend on Our Tile Flooring Installation
Eliminate the guesswork involved with your next home improvement project by taking advantage of our professional tile flooring installation process. Don't feel limited by the basic grid of square tiles that you often see in many homes, and expand your imagination with an innovative and creative pattern. Create an atmosphere of timeless style with the traditional checkerboard pattern, or add a creative touch with the popular brick floor tile pattern. Another popular style that you have to choose from is the subway style look. Even a simple approach like creating a tile border can add a distinctive feel to any room. A world of options for patterns is available to you when you are interested in a look that sets the standard in your neighborhood.

Contact us today for a free design and installation consultation when you're in the market for tile flooring. We proudly serve customers in Cary, NC, and surrounding areas.