Vinyl Flooring in Cary, NC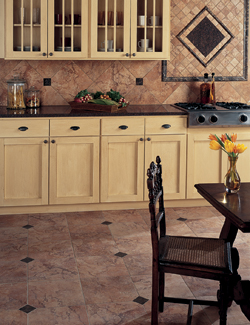 Impress your guests with contemporary vinyl flooring. Vinyl is a versatile flooring material that combines form, function, and affordability into one complete package. Your home is the center of your family's life. Choose a floor that accommodates your busy lifestyles. We make it easy to find the type and style that fits your needs.


The Sensible Choice of Vinyl Flooring
Simply put, vinyl is a multipurpose flooring material that is suitable for virtually any room in your home. Its durable construction allows your floor to withstand everyday use, especially in areas that see a lot of activity. Made from an impermeable material, vinyl is waterproof and stain-resistant. The only pieces of equipment you'll ever need for cleaning is a broom, a damp cloth, and an approved cleaner.
Whether you are planning to remodel your bathroom or kitchen, or you wish to replace your entire home's old flooring, we are more than happy to help you – from sale to installation. Our store sells a vast selection of vinyl types, including tile, plank, and sheet flooring. Many different designs and patterns are available and at price points that fit your budget.


Creative Vinyl Tile Flooring
Create a visual tour de force in your home with vinyl tile flooring. Tile flooring has modified the already impressive versatility of vinyl flooring and provided greater aesthetic possibilities. Tiles can be placed easily, so you can take the time to imagine an ideal pattern, as well as mix and match before committing to a specific design.
Vinyl successfully emulates the appearance of hardwood and stone, allowing for a more natural appearance that keeps costs low. In addition to these true-to-life reproductions, vinyl may also be printed in a stunning array of patterns and colors. As a result, your design choices are limited only by your creativity. Whether you want a solid color throughout your home, a flashy checkerboard pattern, or an intricate tessellation, vinyl tile flooring can make it happen.


Economical Vinyl Sheet Flooring
One of the biggest draws to vinyl is its cost-effectiveness. Of particular note is vinyl sheet flooring, which is quick to prepare and install. Much like its plank and tile counterparts, sheet flooring can be printed in a variety of patterns, designs, and colors. Embossing expands your options, even further, providing additional textures that are noticeable. Browse our selection of sheets with our knowledgeable sales representatives to find the style that suit you, and your home, the best.


Long-Lasting Vinyl Plank Flooring
Enjoy the classic appearance of hardwood in your home at a fraction of the cost. From the grain patterns and all the way to installation, vinyl plank flooring looks just like the real thing. The primary difference is its economic manufacturing process and lightweight construction, which allows you to ship and place your floor in record time.
Our store offers a large selection of plank floorboards that match the overall tone you wish to establish in your home. Browse our inventory and find that pattern that speaks to you.


Timely Vinyl Flooring Installation
After finding your ideal floor, it only makes sense that you would want to enjoy it right away. For this reason, our professional vinyl flooring installation team is ready to serve you. We make every effort to ensure your flooring is placed right the first time, every time. Our trained staff removes your old flooring, prepares the surface, and installs your new vinyl in a quick and efficient manner. We do not rest until you are completely satisfied with the end product.

Contact us today to learn more about our extensive selection of vinyl flooring. We are more than happy to tell you about current product availability and additional service options. Our company proudly serves customers in Cary, North Carolina.