Waterproof Flooring in Cary, NC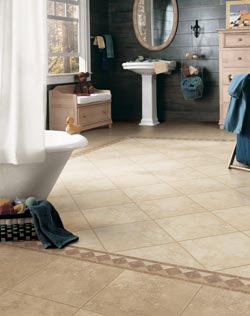 When it comes to flooring, water can be a serious adversary. However, water is not a concern when you choose waterproof flooring in Cary, NC from Brentwood Carpets Flooring America. Our flooring showroom is the home to surfaces that stand up to the challenges that water, liquids, and moisture pose. This is why we offer a fine selection of vinyl plank and carpeting that is tough enough to resist water damage.
We invite you to visit our showroom to talk to our sales and design professionals. They know all and tell all about our different brands of waterproof floors. You can count on our experts to answer the questions you have and show you our selection as they have both product knowledge and design skills.
The Performance Feature of Water Resistance
You're ready to invest in new floors for your home, but you demand high performance, as well as a handsome appearance in any choice you make. Let us show you a luxury vinyl plank and carpeting that has all the qualifications on your list.
Vinyl plank is a popular option as it comes with the realistic appearance of wood. The natural elegance of wood is readily apparent in our luxury vinyl as it elevates the ambiance of any space it graces. Add to this beauty the quality of water resistance. This allows you to relax about your flooring, especially when you have children and pets. After all, spills and accidents occur and you need to have flooring that can withstand such happenings.
Another well-loved flooring selection is carpeting. Nothing offers more comfort and warmth than carpet flooring from wall to wall. To make carpets even better, the manufacturers we work with enhancing carpeting during the production process. This means carpeting can block the fibers from absorbing liquid. You don't have to cry over spilled milk, or water, or anything else. With a water-resistant carpet, your flooring is protected.
Depend on us to provide other types of flooring that say, "no," to water. Our in-store experts are waiting to show you samples that meet your lifestyle requirements and design preferences.
Proper Installation Offers Needed Protection
Depending on the type and brand, the elements that make flooring waterproof can be in the flooring itself and even in the underlayment. This is why we urge you to schedule installation with our skilled professionals. This safeguards the backing of your carpeting and the subflooring from mildew and mold when water spills. Let us send a team of experts to your home for installation that offers long-lasting protection, beauty, and in most cases, protects your warranty.



Contact us today to install high-performance waterproof flooring in your home. We proudly serve customers from Cary, Holly Springs, Apex, New Hill, and Willow Spring, North Carolina, as well as the surrounding areas.